Details and assembly
Along with low power consumption chips, silent computers are also expanding. The British company Akasa has been specializing in the development of cases optimal for this purpose for the last few years. We have put their most progressive model through editorial hell. After exploring every corner and measuring temperatures in all possible positions, we can say what it can and cannot do. To give you a better idea, we are providing thermal vision too.
Details and assembly
The case is made of anodized aluminum and the design is very simple. The top and side walls are basically just ribs, the front one is grinded. The front panel has only a power button and two USB 3.0 (or more precisely 3.1 Gen 1) ports. It's a bit of a shame that Akasa decided to not use an internal USB 2.0 header, which every supported board has.
At the bottom, there is a mounting plate for a monitor (or a wall) through VESA 100 × 100 mm. Its dismantling is also the key to the inside where the component listing starts and ends with the console for the installation of two 2.5″ disks, 3.5″ ones are incompatible. They cannot get in, the case would have to be bigger. It weighs 3.5 kg with 293 × 205 × 93 mm sizes. For a better idea, it is seven times smaller than an average midi tower, so it can be definitely considered minimalistic.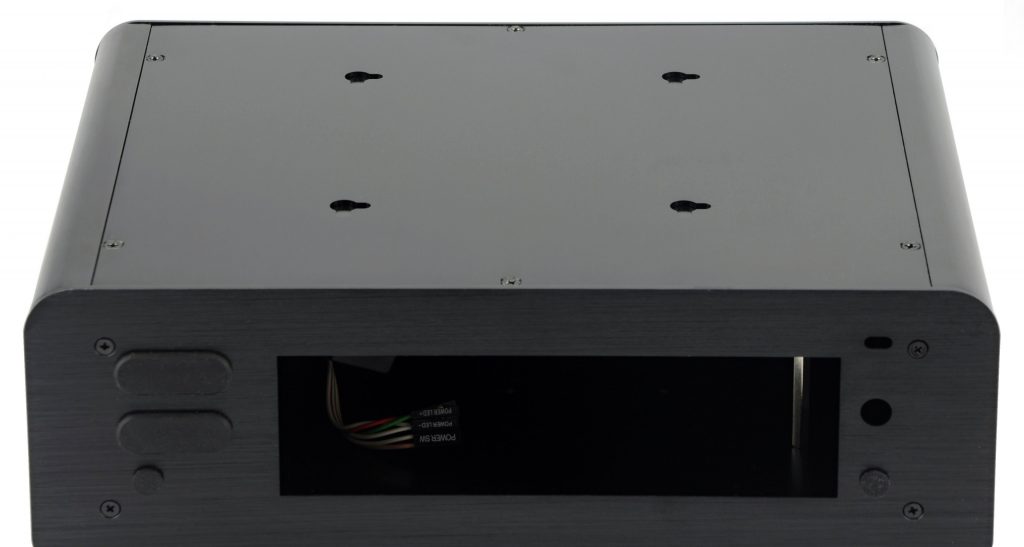 An important part of the accessory is a monolithic aluminum block intended for the heat exchange between IHS of a processor and the shell of the case. Its assembly is relatively simple, but you still have to use the manual because you need to know which are the right mounting holes. These vary depending on the board manufacturer. They all have it differently, but the compatibility is relatively narrow anyway (the list is available on the manufacturer's website). However, after some modifications, you can also install some officially unsupported boards. For example, Gigabyte GA-Z270N Gaming 5 requires removing the aesthetic cover around I/O ports, or removing the rear spacing pillars. But be careful, it might be impossible to reach other boards with a cable from the front panel and so on. The only supported format is Mini-ITX.
The installation was quite fast. Turn the motherboard upside down and screw it standardly. But think twice before you do it because if you do not have all the wiring connected (you forgot something or you want to add some additional SATA cables), it is possible to do so only after dismantling.
Fortunately, disks are not installed on a shared panel with ribs where they were heated rather than cooled, but to an independent sheet metal. The question remains, however, how to handle the powerful NVMe SSDs that have controllers that are heated to high temperatures even in conventional cases with an active system cooling. It seems that Euler MX is not ready for it yet. But alternative models from competition are neither.
Flattr this!