Small board with X299 under water
Mini-ITX boards are great when you want to have the smallest computer possible. They were originally meant for economical low-profile PCs, but today they are also used in gaming computers. However, small size can also be practical on a workstation, so it's nice to have Intel Skylake-X processors with 18 cores available with ITX format now. It will be possible to buy a Mini-ITX board with the LGA 2066 socket.
Getting the X299 platform into the Mini-ITX format is not easy, because it uses four-channel memory for which PCB normally needs more space than 17cm width of a Mini-ITX board. LGA 2066 socket is quite large itself. The first company to design such a board is ASRock and its name is X299E-ITX/ac. In a way, it is some kind of a technological demo showing that it is possible. It is difficult to say whether other manufacturers will follow.
It is worth mentioning that they have managed to maintain quite a lot of the X299 platform functionality. Obviously, there cannot be more than one PCI Express ×16 slot on a Mini-ITX board, but designers have been able to put four memory slots onto a 10-layer printed circuit, so the processor will have full memory bandwidth and 64 GB of RAM will be supported. This is because the board uses memory slots for SO-DIMM notebook modules. Manufacturers should consider this solution even for less extreme models because SO-DIMMs have no significant drawbacks and four memory slots would eliminate a big weakness of Mini-ITX boards.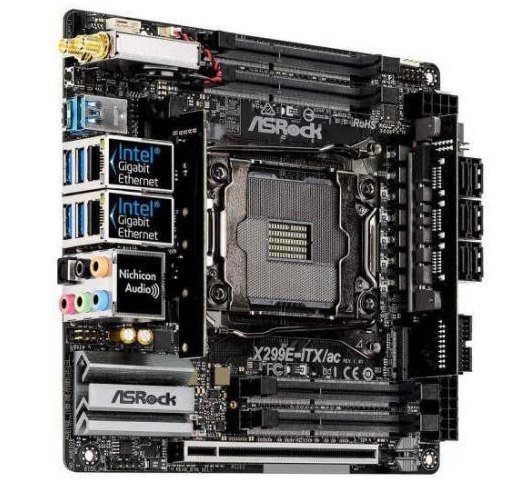 Because of the rear side of the PCB, the ASRock board has three M.2 slots for SSD, but one of them is also accessible from the front thanks to a secondary board attached vertically just behind the rear connectors. This space saving trick is used twice. On the opposite side of this auxiliary PCB there are six SATA ports and a USB 3.0 front output. All the connectivity can be viewed on the manufacturer's web.
We will be very much interested in how this motherboard deals with the great heat that troubles Skylake-X processors in burn. Especially in some small case, it will be probably the biggest challenge to properly cool power supply components. These are below the vertical add-on board and that could be a weakness. The "overlap" also limits the size of their heatsink, which is not visible in the photos but exists (it is under the SATA ports).
ASRock has made a deal with Bitspower and a suitable water monoblock will be available, which could make the cooling much easier. According to its pictures, it looks like it will have a flat protrusion that fits into the space under the additional PCB with SATA ports, and it could cool the hidden components there. If this works well, it will prevent dramatic VRM temperatures. On the other hand, liquid cooling with a custom circuit, pump, and a radiator will add a lot to the size of your computer (and price also…), so the whole configuration will have to be reasonably adjusted if you do not want to get back to the ATX or Micro-ATX size.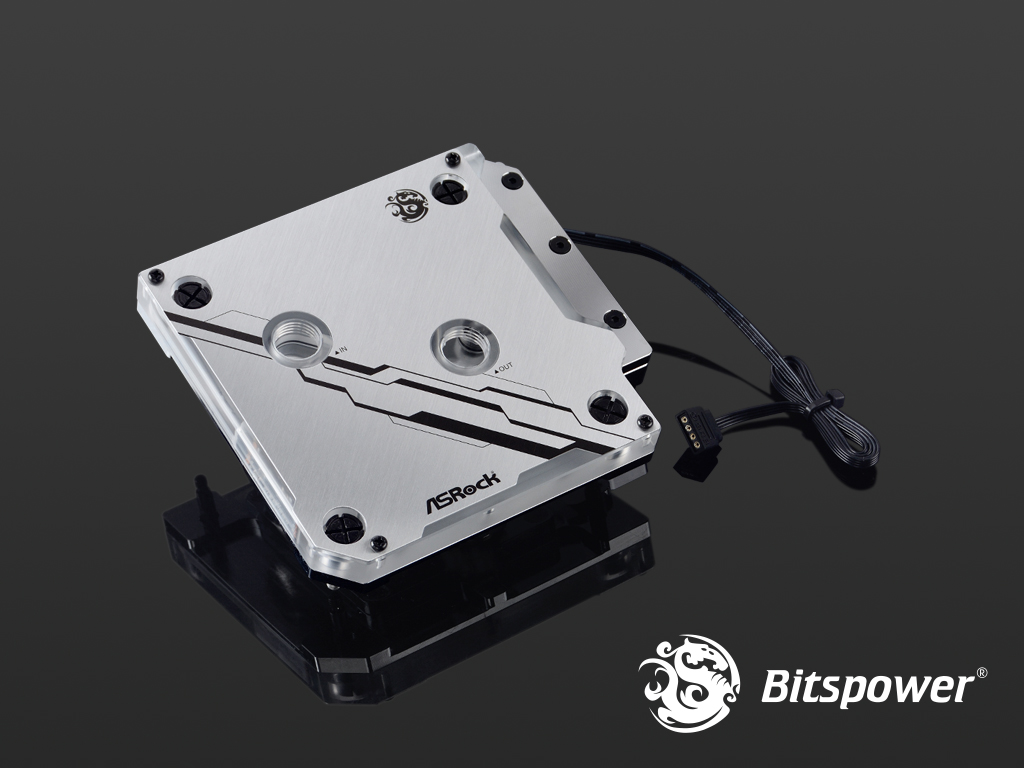 There are also some Micro-ATX boards for the Skylake-X processors, one such model is from MSI (X299M Gaming Pro Carbon AC). Building a compact workstation on it will not be so extreme, but it could also work well with a space-saving case. You could even have more PCI Express cards.
Flattr this!