High consumption and heating of Core i9
During the recent years, TDP of processors have been declining, 65 W chips have become mainstream, and the things we write about have become a little less important. But this week's reveal of extreme Intel processors indicates that the competition is now pushing the manufacturers back to straining the hardware to the edge and making things probably much more hot than cold.
Core i9-7960X and Core i9-7980XE (Skylake-X processors with 16 and 18 cores) are large chips and their power requirements are also great. When a motherboard does not limit their power consumption to 165 W TDP, or when the CPU is overclocked, the input power is unprecedented: reviews show that power consumption with milder OC and lesser voltage can be over 300 W, and with more aggressive OC up to 500 W. And the extreme overclocking of these chips puts it really close to the magic 1000 W. The Core i9-7980XE with high voltages can reach consumption so high that the temperature remains above zero even when cooled with liquid nitrogen.
Here is a chart illustrating what have Skylake-X reviewers encountered in their overclocking tests. The source is GamersNexus that tried to benchmark high clocking with a voltage that would certainly not be a limit with a smaller CPU. These CPUs will be a completely different league for the OC when it comes to cooling requirements (in addition to the paste problem under the HS), but not just cooling the CPU itself. This kind of OC will possibly make operational features a central issue for other components too.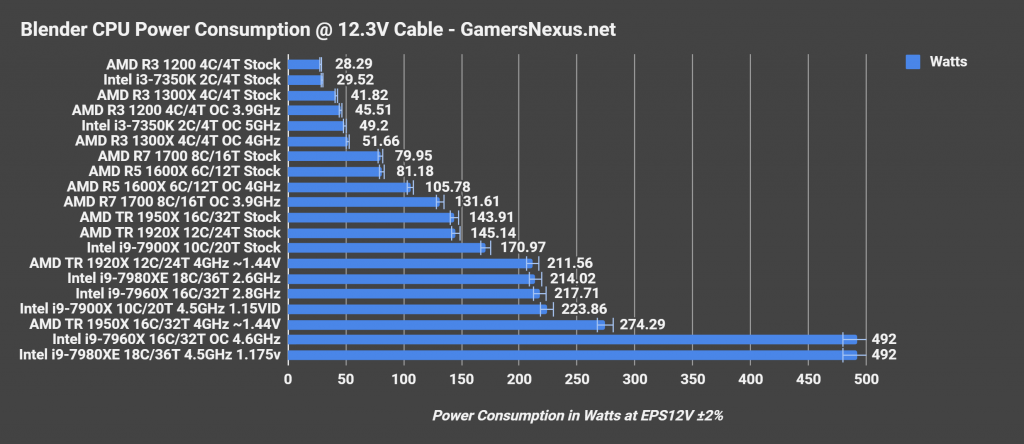 It cannot be expected that motherboards will have no problems with such consumption. Voltage regulators (VRMs) will not only have to produce unimaginable 300 – 400 A of current (400 W at 1.25 V means 320 A, 500 W means 400 A), but they will also have to deal with waste heat, which could be dozens of watts created by the power supply circuit. And today's motherboards – even the high-end ones – have a small or very poorly ribbed heatsinks on the VRM. In addition, the temperature affects the performance of the MOSFETs – the higher the temperature, the less current from the VRM. We think that there will be no other option but to cool the cascades actively, even with better motherboards, unless you have a liquid monoblock. Without it, it may be necessary to replace heatsinks or heat-conducting inserts below them if you want to overclock this kind of CPU.
It is even recommended to use a motherboard with two 8 pin connectors, again due to the current that will pass through the wires. Who knows, maybe now it will be necessary to test even the temperatures of power supply cables and their connectors which are most likely to overheat when overloaded, and that could damage the board.
Skylake-X with a large number of cores were not originally planned. Intel has probably added them because of AMD's Threadrippers. And the consumption that these server chips have when power management is no longer limiting them is probably the reason. Maybe the new Coffee Lake processors for the LGA 1151 socket could bring something similar, just on a smaller scale, if Intel has also raised their clocking higher than was expected for the 14 nm process. So, even they may be stretching for consumption that is beyond the official TDP, presenting new challenges for power cascades and coolers.
Flattr this!