Parameters and details
Two boards for the same price but with different approach. After reviewing the key elements of their layouts and examining fan control options, you can look forward to a large portion of temperature and consumption comparisons. Let's find out which one of these AMD Ryzen boards fulfills your expectations better.
Basic parameters
---
Details
The Asus brand, Strix, appeared on the motherboards with the arrival of Ryzen. For AMD, a single model is currently available, with the addition of "F", and it looks like a better middle class board.
The layout of components is conventional. Only the position of the first PCI Express slot for a graphics card is worth mentioning. The distance between its center and the center of the processor socket is 81 mm. That is 1 cm less than on Gigabyte board. However, not even Noctua NH-D15 which is a cooler with a quite wide heatsink, collides. But it does make things a bit tight and it complicates access to a graphics card and its disassembly.
Slot M.2 is located below the second PCIe ×16. This means that a SSD is further away (in configurations with one GPU) from the hot graphics card, but also from its fans which could eventually blow some air around it. In some extra test, we will try to find out whether this position is better or worse.
A great attraction is an external memory clock generator through which you can pull the modules efficiently to 3600 MHz. A rarity among internal connectors is the presence of USB 3.1 gen 2 (ie with a theoretical bandwidth of 10 Gb/s). But manufacturers of PC cases do not seem to count with it because not even the external panel, which was announced last year by Phanteks, is available yet.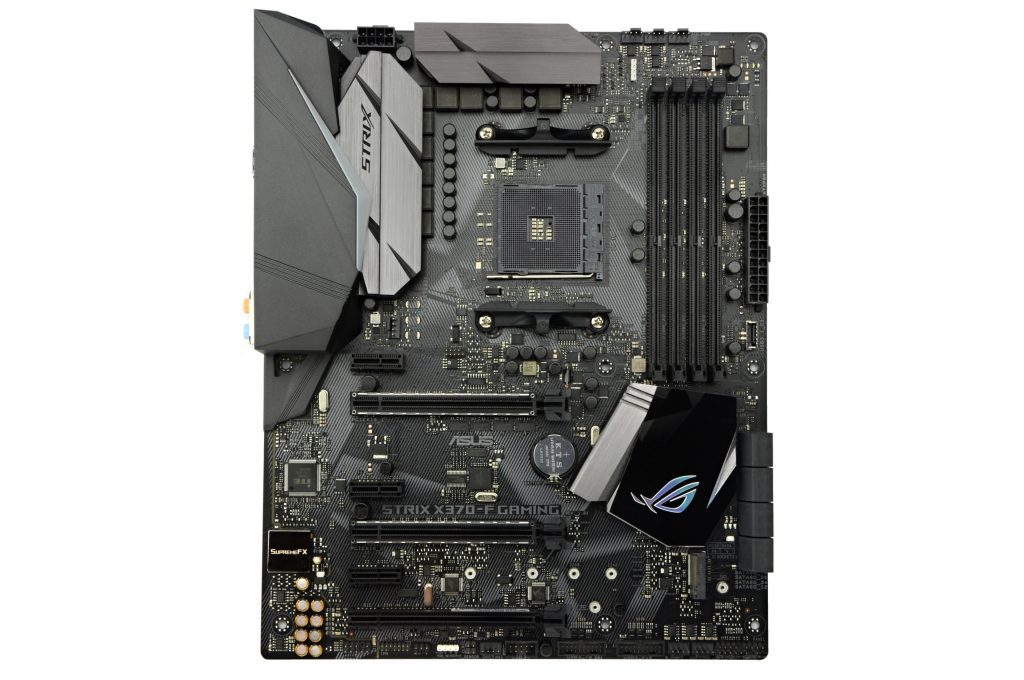 On I/O panels, we praise the connection of DisplayPort, which means you can get 60 Hz from the APU even with Ultra HD resolution (3840 × 2160 px). That is not possible with neighboring HDMI 1.4 output.

Let's look at what interests us most, the power supply circuit and its cooling. Ten coils hide the same number of IR3555 voltage regulators and before them a controller that Asus calls Digi +. It is supposed to be particularly accurate, eliminate unnecessary waste, and increase system stability. The capacitors are tropical (125-degree) MIL 820/3 5KX13.
The cooling of the circuit is really robust, consisting of a pair of heatsinks with a total weight of 170 g. Their shaping is relatively efficient, several ribs are extracted from the core. They are a bit bigger and there are less of them than there could be, but we cannot complain about that, considering the current circumstances. However, the chipset heatsink is not that "bushy" and it feels like it was designed with the idea: "Chipsets don't heat that much these days and anything visually appealing will do the job."
There are seven 4-pin connectors. After the Z270E, it seems that Asus has decided that it is better to have more connectors with standard specifications + one for very high offtake (3A). In this case and on the paper, three connectors are for system, two for processor cooler fans, and two for connecting pumps for liquid cooling.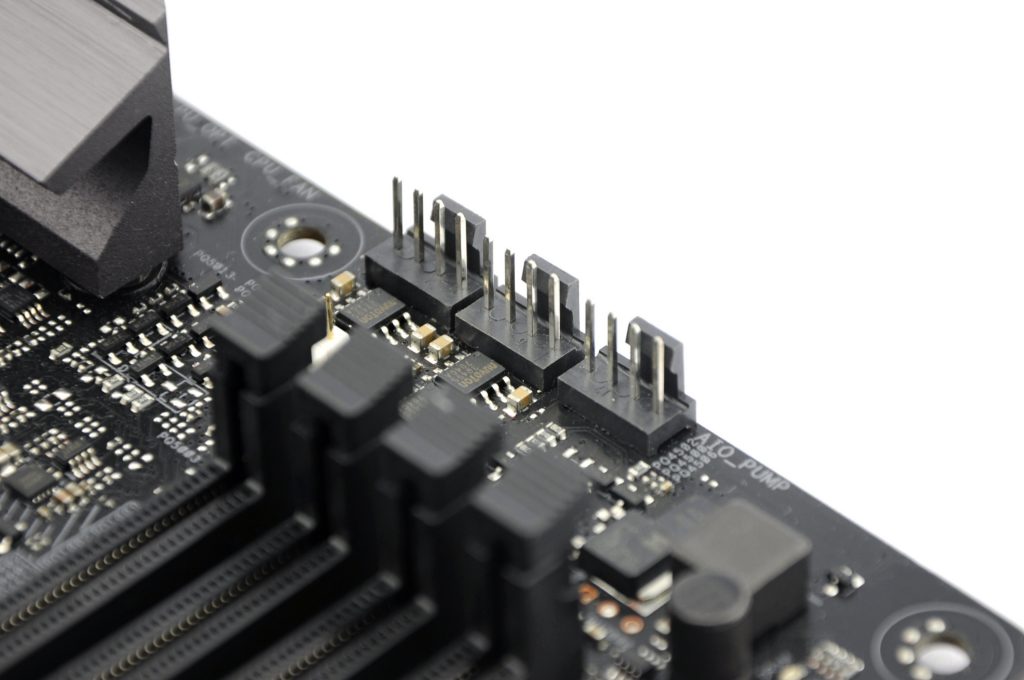 ---
The opponent from the Gigabyte workshop comes in a bit more contrasting outfit. And if you are a fan of the RGB LED, it is located between the slots for memory and the expansion cards unlike Asus. They are not in the decorative cover above the I/O (like with the Strix) this time. If you want to "dress it up" yourself, you can – internal 4-pin connectors are available for your own lights and LED strips. And again, who does not want to have lights, they can always be turned off manually.
If you are considering moving to AM4 from AM3+ socket and you have a cooler that does not support AM4, you are going to be disappointed. The Gigabyte has only a single holepitch of 90 x 54 mm. We would not mention it, but Asus does have both.
What we appreciate is the extending the distance between the socket and the first slot for graphics cards, as well as their proper reinforcement (from the first to the last). The configuration has a variety of useful components that are not standard in this price category. Pleasant is a pair of BIOS with manual switch, POST display, and also control buttons in the right corner of the board. The power button, reset, and clear CMOS to press will be certainly appreciated on the benchtables by experimental tuners, more than shortening the contacts with the screwdriver.
The PCB has also 2-pin connectors for connecting temperature sensors that can be used immediately, they are a part of the accessories. The specialty (or tradition) of Gigabyte is also the U.2 connector, which is fine for a 2.5 "SSD (NVMe).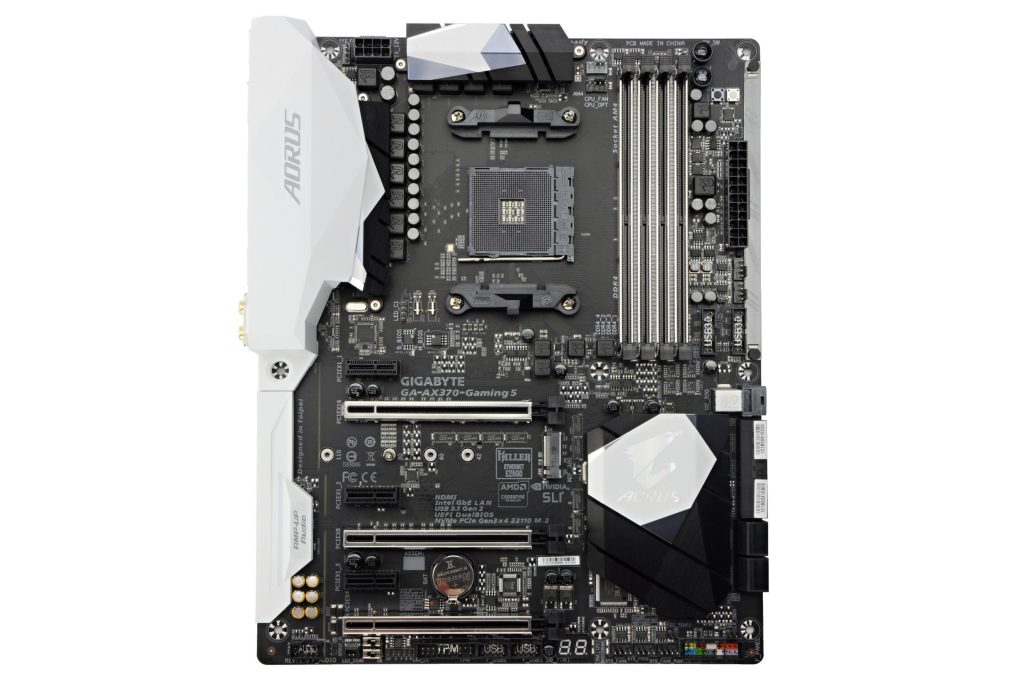 There is something missing on the rear panel and something that is extra. You will not find DP there anymore, so 4K resolution will not be the best experience. Well, with iGPU, of course. However, the argument that this is a motherboard for gamers that do not use iGPU has its point. Added value for gaming configurations is the second RJ-45 Ethernet port. It is no longer connected to Intel's chip, but to Rivet Networks (Killer E2500).

The row of capacitors consists of CapXon C608 (520 μF/6.3 V/105 ° C), which is quite average. The circuit has 10 phases again, but it is a bit different because of 40 A VRM (IR3553) which are weaker and it will be especially interesting to monitor (and compare) their behaviour through thermalvision. The heatsinks are also smaller (116 g) according to lower current output. Designally, however, they are "more airy" than those of Asus. In terms of the most efficient cooling, the heatsink of the chipset is optimized properly, it has a hollow core and several slits at the top for a better airflow.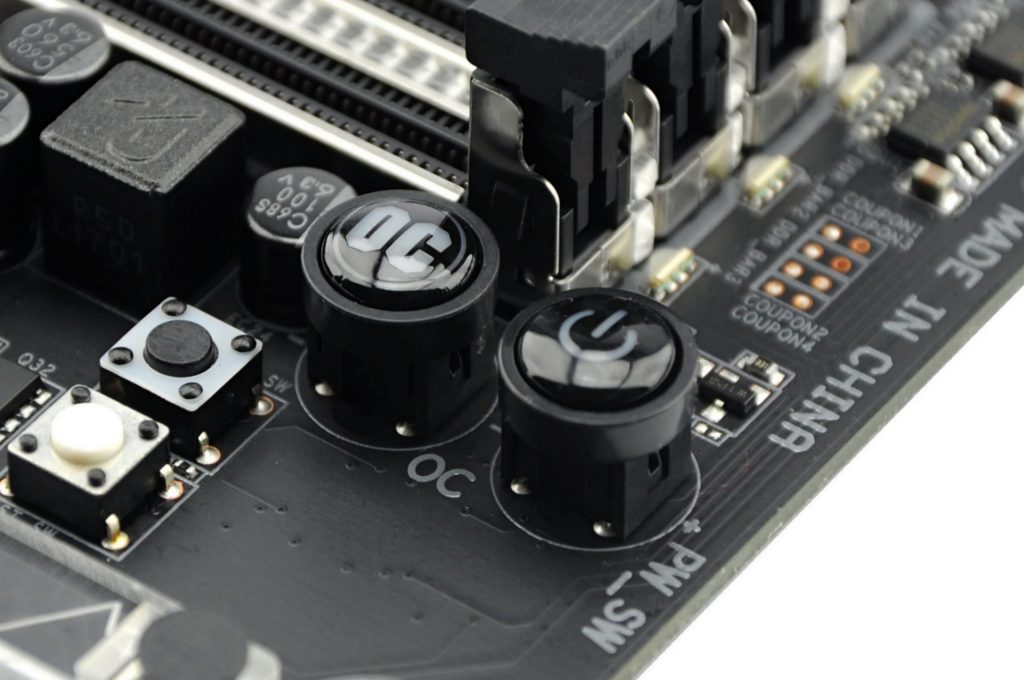 Flattr this!